Bareroot Sale at Dragonfly Gardens
Bareroot SALE for 2023 is now over. Thank you to everyone who shopped our sale and planted some trees -- we could not make this possible without you!
---
email: generalmanager@dragonflygardens.net with any questions. 
2023 Bareroot List
Check out our selection to see what we may be offering in 2024
Semi-Dwarf unless marked - Updated May 4 2023
9/16 - 11/16 size and 5-8' tall
Bloom time is indicated by Early/Mid/Late
*For best pollination, pick two varieties that bloom at the same or overlapping times*
All Apples are $80 ($48 for the sale!)
Cortland – Mid-late  (1 LEFT)
Fireside - Mid-late (SOLD OUT)
Freedom - Mid-late
Goodland - Early
Haralred® - Late
Honeycrisp – Mid
KinderKrisp– Early
Liberty - Mid 1 LEFT
McIntosh – Mid
Prairie Magic® - Mid (Standard)
State Fair - Early-Mid (3 left)
Sweet Sixteen – Mid 2 LEFT
Wolf River - Mid (Standard)
Yellow Transparent - Early (Standard)
Zestar! - Early
Chestnut Crabapple (Standard)
Apple Information Chart - basic information on each apple to help you find the one you want!®
What is Bareroot?
Bareroot means the tree, shrub or fruit is still dormant.  It does not have leaves, and it is not potted.  When you buy a bareroot tree, you get just the tree - no pot, no dirt, just trunk and branches. Otherwise referred to as "Rooted material."

Why buy Rooted material?
Value - we sell our bareroot items for 40% off the potted price!

Ease of Handling and Planting - not only do you not have to deal with a heavy, dirt filled pot but you usually don't have to dig as big of a hole

Great Selection - rooted material requires less space so we are able to have many varieties on hand.  Anything that is leftover after the sale will be potted up for our sale stock for the rest of the season.

Good Performance - rooted material in the form of trees and shrubs frequently take off more quickly than potted ones.  The roots do not have to transition from nursery soil to the native soil.  Planting in early spring also gives that much more growing time for the tree to establish before winter.
Check out our Bareroot Care and Planting Tips
What does the size mean?
Bareroot trees and shrubs are graded by our supplier.  This means they are examined, measured and sorted by size.  Shade and ornamental trees are classified by height then caliper once they mature to a certain size.   This is determined by a combination of the two measurements - caliper and height.  The heights listed for the bareroot trees are the minimum height that tree currently is.  Most often, the tress are significantly taller.  You can usually assume that the stated height is at least the height to the tallest set of side branches.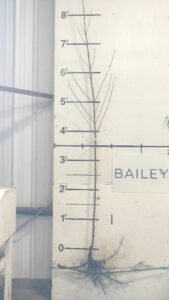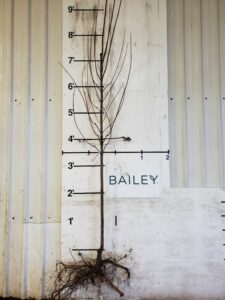 Fruit trees are graded by a caliper measurement taken just above the rootstock graft union.  The fruit trees we sell are 9/16 - 11/16" which is considered the best size range for transplanting fruit tree.  These trees are usually 5-8' tall.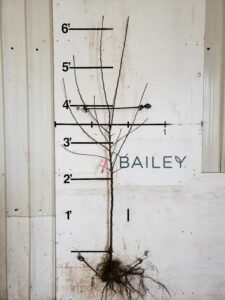 Semi-Dwarf 9/16" Apple Tree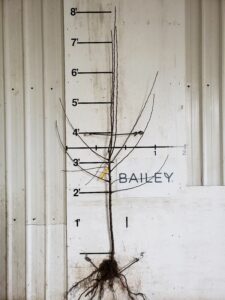 Semi-Dwarf 11/16" Apple Tree
And don't forget to contact Diggers Hotline before you dig!  They are fully functional and accepting all locate requests!
Availability, Size and Price Subject to Change
While supplies last.  Sales are made first come, first serve.
All Sales Final. 
We do not have a return/exchange policy for any plant material – once you purchase plants from us, which are alive and healthy, it is up to you to provide appropriate care and maintenance. Once we lose the 3 C's: CUSTODY-CARE-CONTROL it becomes difficult to discern what happened to the plant, and we cannot re-sell returned plants, as the plant could be contaminated and it would greatly challenge our insurance policy we carry to offer live material to the public. Of course, from time to time items we do get from our supplier fail to leaf out--in which case we will refund customers, provided enough folks alert us to the species in question, as it is going to always be a failure of the same item versus one out of the lot. Please reference the care and planting tips and contact us with any questions or concerns. Thank you.