Dragonfly Gardens for Native Plants, Garden Perennials, Vegetables, Herbs, Trees and Shrubs
EXPERIENCE DRAGONFLY GARDENS and FIND VALUE
GIFT CARD SALE!
BUY A $100.00 GIFT CARD
AND RECEIVE A $20.00 GIFT CARD FOR YOURSELF.
(You can purchase gift cards in any amount but to receive the free $20 card you must buy a $100 CARD. Your $20 card will be mailed to you once you purchase the $100 card.)
Holiday Promotion - runs thru Sunday, November 29th
Can also leave message at 715-268-7660 to order
Follow Us on Facebook
See pictures, tips, helpful articles and special sales!
The BEAUTY OF ANNUALS
We invite you to choose from our amazing selection of color and varieties 
   Create your own outdoor living spaces
      Show your flair for color
          Instant gratification is ready and waiting for you
Choose from hundreds of hanging baskets and container gardens
Garden Perennials
Choose varying heights, colors, and bloom times to create lasting impressions. Dragonfly Gardens carries a wide range of perennials and we now have more varieties and larger plants for instant appeal and enhanced survival.
Our perennial selection is extensive, but may change daily.
 NATIVE PLANTS  are kind to the birds and butterflies
          Attract POLLINATORS
            Give us CLEAN WATER
Browse our Native Plant Selection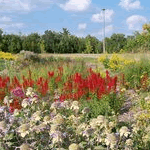 Trees and Shrubs
Plant trees and shrubs all summer long to
+ create shade from the sun +
+ provide a screen +
+ make places for birds to nest, feed and rest +
Choose from a huge selection of heights and blooms and foliage hues.