Dragonfly Gardens for Native Plants, Garden Perennials, Vegetables, Herbs, Trees and Shrubs
 DRAGONFLY GARDENS is committed to Cultivating a healthy planet and engaging the community through a love of plants.

Follow Us on Facebook
See pictures, tips, helpful articles and special sales!
Fall Tree SALE
10% Off all potted trees
20% Off 2 trees from our tree berm
30% Off 3 or more trees from our tree berm
*tree berm  =  trees are not in pots and need to go in ground right away as they are not dormant. Please call ahead to make an appointment to buy from tree berm or email: info@dragonflygardens.net
Garden Perennials
Choose varying heights, colors, and bloom times to create lasting impressions. Dragonfly Gardens carries a wide range of perennial plants. Perennials are powerful plants that can sequester and capture carbon, and provide soil stability and health of the soil, while enhancing biodiversity. 
 NATIVE PLANTS  are kind to the birds and butterflies
          Attract POLLINATORS
            Give us CLEAN WATER
Browse our Native Plant Selection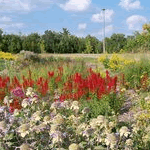 Trees and Shrubs
Plant trees and shrubs all summer long to
+ create shade from the sun +
+ provide a screen +
+ make places for birds to nest, feed and rest +
Choose from a huge selection of heights and blooms and foliage hues.