Dragonfly Gardens for Native Plants, Garden Perennials, Vegetables, Herbs, Trees and Shrubs
 DRAGONFLY GARDENS: committed to cultivating a healthy planet and engaging the community through a love of plants.

Follow Us on Facebook
See pictures, tips, helpful articles and special sales!
Call or email to inquire about personal shopping during off-season.
(715)268-7660 or info@dragonflygardens.net
Bareroot Sale pre-ordering 2023 opens mid/late February once we have quantities confirmed with our supplier. Check out our webpage about for more specification.
Future Classes and Events for 2023 are in the planning and development stage - check back soon for an up to date list!
Garden Perennials
Choose varying heights, colors, and bloom times to create lasting impressions. Dragonfly Gardens carries a wide range of perennial plants. Perennials are powerful plants that can sequester and capture carbon, and provide soil stability and health of the soil, while enhancing biodiversity. Our zone is 4b, and we strive to offer perennials appropriate for our zone.

NATIVE PLANTS  are kind to the birds and butterflies; attract POLLINATORS; give us CLEAN WATER. Native plants can and will help restore the planet. Native plants are powerful and at the heart of our business. Please come check out our native display garden to gain ideas of how spectacular native plants can look in a planned garden, or to just enjoy some peace or the insects native plants attract.
Browse our Native Plant Selection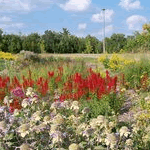 Trees and Shrubs
Plant trees and shrubs in the spring, early summer, and fall to help create shade from the sun, provide a screen, & make places for birds to nest, feed and rest. Avoid planting trees and shrubs mid-summer when hot.

Choose from a huge selection of bareroot trees available each spring during our annual bareroot sale, and a selection of potted trees and shrubs shortly after the bareroot sale. Look for updates about the bareroot sale early in February of 2023.