Restoration Services for Native Plantings
Native plants are one of our passions at Dragonfly Gardens.  We'd love to help you restore your site to it's native roots.  We are pleased to provide official restoration services. 
Native Orders:
We are happy to suggest native plants appropriate for the site conditions you describe or to recommend substitutes within a standard design. Cost estimates for your plant list with a species list and container size are provided free of charge.
Native Plant Delivery:
You are always more than welcome to stop out and pick up your order at the greenhouse. Delivery is available with a $1,000 minimum order within a 60 mile radius of our greenhouse in Amery, WI.  Delivery charge is $2 per mile (one way), with a surcharge of $75 for orders requiring an additional trailer.  We will work with multiple customers to make combined deliveries to achieve this minimum when feasible.  Smaller orders may be delivered for an additional fee within 25 miles of our greenhouse. Delivery is generally available on Tuesdays and Thursdays.
On-Site Evaluation:
Professional services are available for on-site evaluation for plant selection and general layout of your native planting project. On-site services are available on a limited basis within a 25 mile radius of our greenhouse in Amery, WI. With on-site evaluation, general planting zones are identified, marked, mapped, and measured. Follow-up documentation will include a site map with planting zones identified and a native plant species list and quantities recommended for each zone. Because your wishes are important for successful restoration, the client must be present during the on-site evaluation. A non-refundable fee of $200 is payable when scheduling the service.
Site Preparation and Installation:
Our staff is available to complete a limited number of installations each year. Because we are primarily native growers, our focus early in the year is on plant production. We can begin site preparation for projects in mid-July with plantings occurring in August and September.
To ensure appropriate plant selection and quantities of materials brought to the site, an on-site consultation is a required first step for our native plant installation services.
~Limited spots available each year for this service.  Please contact us for more information.~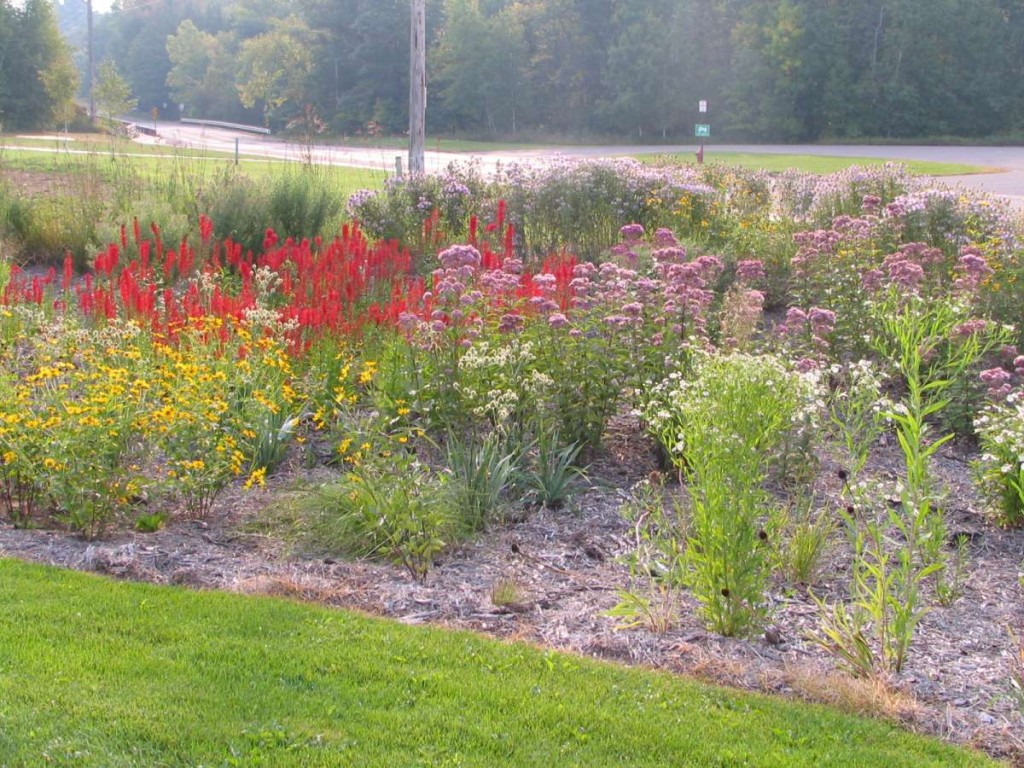 For questions, to check availability or to place an order,
please email natives@dragonflygardens.net or call 715-554-7219.