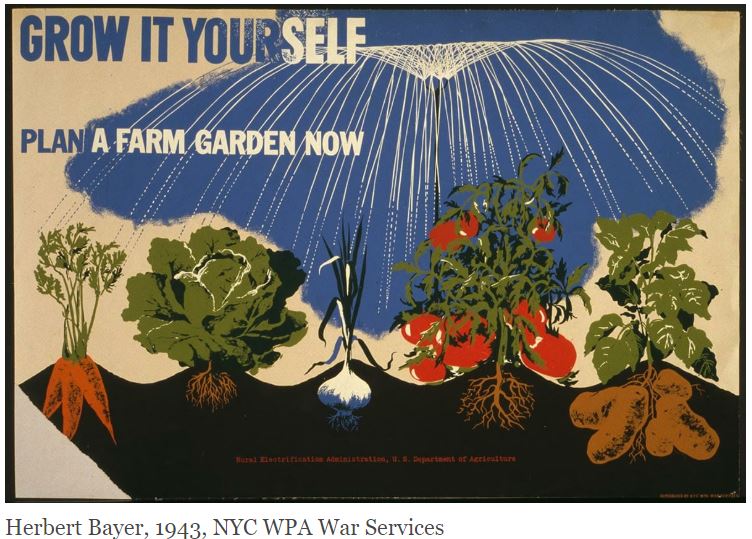 The 2020 Covid-19 outbreak has led to massive layoffs, an excess of 100,000 deaths around the world, and many days of home quarantine for the rest of us.  Socially, economically, historically, this is the worst crisis since the Depression and World War II.  It is awful.
Dragonfly Gardens wants to be part of a solution for getting beyond all this.
We are partnering with Farm Table Foundation to reach back in time and bring back Victory Gardens.  That's right.  During WW I and WW II, when America's back was up against the wall, millions of Americans stepped up and grew food.  At that time, it helped keep American food supplies stable, gave neighborhoods a sense of pride, and united the country around a common mission: helping the war effort.
Today, we need Victory Gardens as much as ever.
That's why Dragonfly is partnering with Farm Table Foundation on a Victory Garden initiative:
1.  Customers can buy a @48-plant tray of garden vegetables for $30 grown by Dragonfly staff through Farm Table Foundation's website at:  
Reserve your plants early because supplies are limited.
2.  Dragonfly will put the Victory Garden trays together, selecting 4-packs and peat pots of uncommonly good summer vegetables, including tomatoes, basil, squash, cucumber, peppers, broccoli, kale, cabbage, and more.
3.  On or around May 16th, the Victory Garden trays of seedling plants will be delivered for distribution to Farm Table in downtown Amery, where customers can retrieve them safely.
4.  Over the course of summer, Farm Table Foundation will compile You Tube videos explaining how best to grow and utilize the Victory Garden produce, viewable from the comfort and safety of your home.
As always, Dragonfly will be open to supply area gardeners with extra plants, healthy soil amendments, tools, gloves and myriad gardening supplies.  We ask that visitors follow CDC guidelines for social distancing, including wearing masks when shopping at Dragonfly, and we will do the same.
It's been a rough season so far, and who isn't ready to get outside and get growing plants, improving the yard and setting about beating this virus so our community can be safe and gather together once more.  Dragonfly is collaborating with Farm Table Foundation to make that reality happen — join with us, do your small part at home, and let's get this done!