Short but Sweet – Shrubs Under 5 Feet
Gardeners, homeowners and landscapers are always looking for just the right plant for every spot.  Shrubs that fit in smaller spots are always sought out.  Shorter shrubs are great for landscaping under windows, along a path or sidewalk and next to front entrance steps.  Some short shrubs are also useful for mass plantings and erosion control.  They can be worked into a perennial flower bed to add another layer of interest.
Some of the most common short shrubs are barberry, potentilla and spirea.  These can be found in many foundation plantings and basic landscaping plans.  Each of these have nice attributes for the landscape and shouldn't be overlooked.  However, there are many other fun shrubs that can add something to the design.
Here are just a few suggestions of deciduous shrubs to help you find one that fits your small space.
Autumn Magic Black Chokeberry
3-5' Tall by 2-4' Wide, Zone 3, Sun to Part Shade
Dark glossy green foliage turns a stunning red and purple in fall.  Fragrant white blooms in spring produce clusters of large, edible, dark purple berries that persist into winter.
Little Devil Ninebark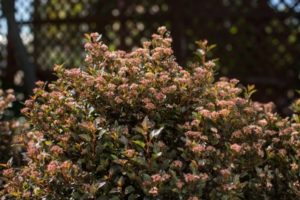 3-4' Tall by 3-4' Wide, Zone 3, Full to Part Sun
An easy to grow, mostly upright dwarf ninebark variety with beautiful red-purple foliage.  White-pink flowers cover the plant in June.  A very easy to grow and maintain shrub with no problems.
Forsythia Gold Tide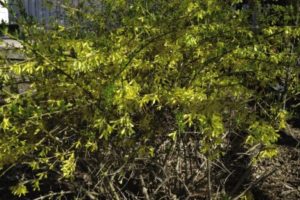 2-3.5' Tall by 3-4' Wide, Zone 4, Full Sun to Light Shade
A compact, ground hugging habit that makes this forsythia excellent for mass plantings.  Lemon-yellow flowers bloom in early spring just as the snow melts.  Tolerates full sun to light shade and moist, well-drained soils.
Hypericum St. John's Wort 'Ames'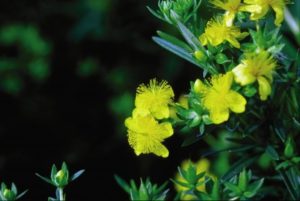 2-3' Tall by 2-3' Wide, Zone 4, Full to Part Sun
A perfectly rounded shrub with long, narrow blue-green leaves.  Masses of beautiful 1" golden-yellow flowers cover the plant in mid-summer.  Also adds nice texture to the landscaping.
Summersweet Clethra – Hummingbird or Ruby Spice
3-5' Tall by 3-4' Wide, Zone 4, Sun to Shade
Underused shrub with long flower spikes in summer.  Hummingbird blooms white and slightly fragrant, Ruby Spice has pink flowers.  Yellow to golden brown fall color.  Clethra is tolerant of shade and moist soils but does well in full sun as well.
Mockorange
'Blizzard' – 4-5' Tall by 3' Wide, Zone 3, Full Sun
Single, fragrant white flowers blooms in profuse clusters in June and last for up to 4 weeks.  Nice upright shape and very hardy.
'Miniature Snowflake' – 2-3' Tall by 1-2' Wide, Zone 4, Full Sun
Double white flowers are extremely fragrant and totally cover the plant in late spring/early summer.
Weigela 'Dance Series'
'Tango' – 24-30" Tall by 30-36" Wide, Zone 4, Full Sun
Purple foliage with clusters of red, trumpet shaped flowers
'Minuet' – 24-30" Tall by 2-3' Wide, Zone 4, Full Sun
Ruby red to lilac, slightly fragrant trumpet shaped flowers against green foliage with a purple tint.
'Polka' – 3-4' Tall by 4-5' Wide, Zone 4, Full Sun
Dark green foliage contrasts the pink, trumpet shaped flowers.
'Rumba' – 3' Tall by 3' Wide, Zone 4, Full Sun
Bronze-purple tinged leaved and dark red, long lasting flowers.
Bobo Hydrangea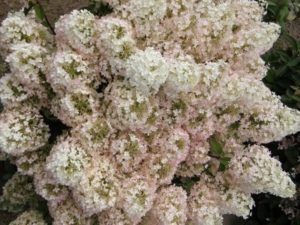 2.5-3' Tall by 3-4' Wide, Zone 4, Full sun to Part Shade
Large, white flower clusters in summer on sturdy stems.  A stunning dwarf hydrangea.
All images courtesy of Bailey Nurseries unless otherwise notes.